ID Codes
(Only Enter Number In Box)
101 - Ice Cream Dream
102 - Sunflower
103 - Blue Skys
104 - Marina
105 - Rose Petal Pink
106 - Confetti
107 - Cotton Candy
108 - Lollypop
109 - African Violet
110 - Viva
111 - Summer Melons
112 - Salt Water Taffy
113 - Purple Rain
114 - Grassy Fields
115 - Tutti Fruity
116 - Spring Breeze
117 - Neapolitan
118 - Pixi Stick
119 - Parkeet
XX - Jonqui -Sold out
121 - Early Morning Dew
122 - Rainbow
123 - Bambino
Each cloth is custom made. Variations in color pattern can occur.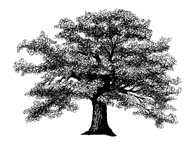 WC103 - Blue Skys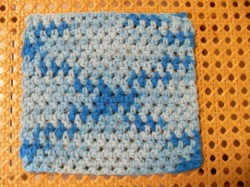 WC 112 - Salt Water Taffy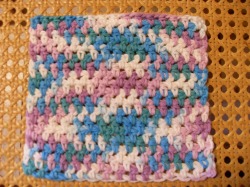 WC 122 - Rainbow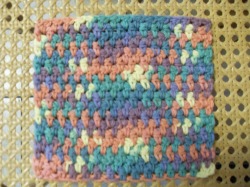 WC 118 - Pixi Sticks
Artisan: Teresa Antal-Madeira was born, raised, and currently resides in Northeastern, Pennsylvania. She has been creative throughout her life, working in various media. She loves to work in her own creative enviroment, and has been greatly inspired by nature & color.

She was taught to crochet at 8 years of age by both of her grandmothers, and has been crocheting ever since. She combines colors, shape, and texture for one of a kind creations she hopes that you will enjoy :)
All of these washcloths/dish towels are handmade; There will be slight variations in the color pattern for the theme selected as each one is custom made to order just for you!