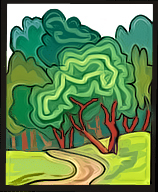 Shady Grove site is moving! Click anywhere on this notice and go to our new home. Enjoy the ride over and enjoy the views once you get there!
Shady Grove Comforts is an open group of local artists and craftsmen who are making their crafts, artwork, and original wares available in an artists' retreat type of setting.

Shady Grove Comforts is located in the Endless Mountains Region of North East Pennsylvania. A link is provided below for the local Tourism Bureau which offers a cyber tour of this beautiful area. Pictures of Shady Grove property can be found scattered around the site ~ be sure to scroll down on the pages you visit so you do not miss anything!

Think of Shady Grove Comforts as your local Artist Studio and Retreat with an on-line presence. Numerous artisans who work in a wide variety of genres are able to be represented in one location.

While we all may live and work in our own homes and studio's, Shady Grove Comforts does indeed exist. Shady Grove Cottage has been transformed into a cooperative artist's studio. The 40 year old log cabin in the woods overlooks the spring fed pond and is home to the artist in residence.
You are always welcome to e-mail with any questions or comments.

Items available for sale are limited in quantity to what the artisans create. We try to offer a variety of unique items and will be adding new items as soon as they are available. There is no factory line or mass-production on any items for sale here. If you see something you do like and want, there may not be another just like it available at another time ~ please keep that in mind as you browse ~ It is kind of 1st come, 1st served at any given moment.

New items will be added as they become available.

USPS or UPS Delivery can be arranged if you wish your item shipped to your home or sent as a gift. Confirmation tracking information is provided as a more secure transaction for all of us.
Returns: All items may be returned within 7 days in the same condition received.


Thank you for looking ~ We welcome your comments!

New artisans and craftsmen are welcome to join our group! Please e-mail for more information on how you may join us and showcase your talents.
1st Day of Summer at Shady Grove
Shady Grove Cabin and Cottage are both surrounded by perennials, wild flowers, ferns, and evergreens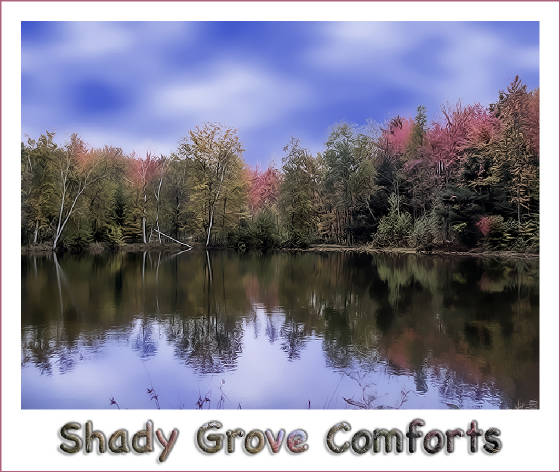 Shady Grove Pond with Cabin to Right in the trees