Rustic log furniture will be made from red pine cut from a 50 year old stand located in northern Susquehanna county. Items will be made with solid pine logs with tenon and mortise glued joints, reinforced with screws. Tops will be millstead pine boards. All will be sanded and stained to bring out the natural beauty of the wood. Offering benches, coffee tables, end tables and chairs etc. Will do custom requests.
Coffee table shown in Red Mahogany or Walnut Finish
Size: 20" width x 40" length x 23" height (Approx.)
Tables can be done with just a natural finish or any stain. This was a design I came up with because I like to see the rings in the wood, rather than cover them up like most rustic furniture you see.
Prices for Log Furniture:
Coffee Tables $125 each
End Table $75 each
Set $250 (1 coffee table, 2 end tables)
Benches $125 each
Environmentally friendly, all logs are harvested from dead-standing red pine trees.
Log furniture is not meant to be perfect in shape and form as in traditional furniture.
All log furniture is subject to the natural process of "checking". Checking or cracking happens as wood releases moisture, and normally occurs across or through the annual growth rings. It is the usual result of wood seasoning. Checking occurs mostly on the surface of the wood and does not affect the structural performance or integrity of the wood.
Each piece of log furniture is different than any other. Just like us, no two trees grow exactly alike. Every log will have its own knots, diameter, and structure. One can truly have something unlike any other that has been made.
All items will be stained using Johnson minwax and will be given 2 coats of polyurethane each.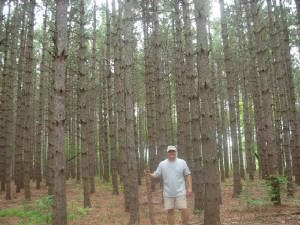 Artisan: Paul Miletta
When checking out, please put in your Zip Code ~ Shipping is based on where you live. If you wish the log furniture shipped to somewhere other than to you, please put in the delivery zip code. Thanks!
_____________________________________
Custom Log End Table
Size: 25" x 20" x 22"
Each one is unique!
Weight: 22 pounds
Finish: Walnut
Price: $75.00